The AIDS Coalition To Unleash Power (ACT UP) was a direct action group founded in New York in 1987 to highlight the situation of people with AIDS.
ACT UP New York staged a coordinated series of public protests called the 'Day of Desperation' in 1991. With just a single drug treatment of limited benefit available (AZT), ACT UP Paris was inspired to stage its own event 'La Journee Du Desespoir' in 1992.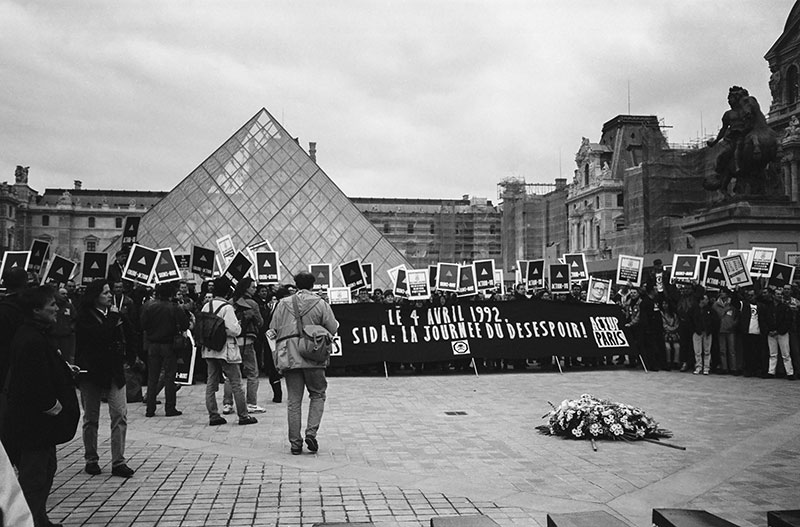 The aim of the day, described here by ACT UP PARIS founder Didier Lestrade: "We will not act to propose solutions to the AIDS epidemic, as we do throughout the year. We will fill the streets to show our anger and despair. That's all. Because today Paris is the AIDS capital of Europe. Because our friends are dying…"
Purely by chance I was in Paris on that very day. After a trip up The Eiffel Tower, I recognised the word SIDA (AIDS) on a lamp post flyer and realised there was a demo about to take place.
The poster read "We are desperate because 12,000 people have already died of AIDS. Show your despair. Demonstrate your anger before it is too late."
Holding banners and chanting, the crowd suddenly started running. I realised we were storming The Louvre. Within minutes the decorative fountains were running blood red from food colouring. The gendarmes caught up with us and we were moved on. As we passed The Seine, the fake coffins being held aloft by protestors were launched into the water.
At a time when the fight against AIDS was moving painfully slowly, it was a moment of action. And as the slogan of the movement declared: Action = Life. I rediscovered the photographs in 2015 while researching images of early Brighton Prides, and Nick Ford kindly agreed to exhibit them.
Exhibitions
The photos have been exhibited twice:
Thanks
Thanks to Simon Parkyn for his French translation, Mark Toynbee for his design work, Hugh Jones for arranging the loan of frames, and Colourstream in Brighton for printing the photos.